Preventative Maintenance Tips For Your Autoclave
Preventative Maintenance Tips For Your Autoclave
Yes, you can easily perform the maintenance procedures on your autoclave and keep it in performing at its best.... and in most cases, it takes only a few minutes to do.
The amount of money you save off the cost of having a service technican come to your office to perform the task, can easily pay for the parts needed
"How To Take Care Of Your Autoclave And Make it Last
By Replacing Critical Components.....On Schedule"


Tip:
It is always a good idea to have someone within your practice designated to provide the maintenance, care and repair of your autoclave: be it Yourself Or a Member of your Staff.
How To Stop Problems Before They Occur
"Failing To Perform Preventative Maintenance Is The Leading Cause Of Autoclave Failure"
Every autoclave has regular Preventative Maintenance Routines, and it is critical they be performed at the times as specified by the manufacturer. Like changing the oil in your car, they have to be done on a regular basis.
The parts involved are.....
Door Gaskets (or seals)
The Bellows Assembly, Or Steam Trap and
Filters
WARNING:
Waiting for these parts to fail before replacing them means: when they do fail,
the instruments being autoclaved will not be sterilized!
And, failing to do do these procedures as specified, always leads to major, more expensive problems, somewhere down the line. If you don't know what the procedures are, we are happy to tell you what is specified by the manufactuer of your autoclave and walk you through the entire process.
Kits Make It Easy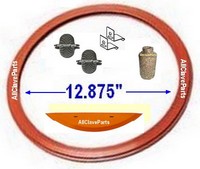 To make it easy for you, we have put together Preventative Maintenance Kits For Most Makes & Models containing everything you need to get the job done. Just click on the link for your make and model of autoclave from the menu at the top of the page to find yours
Keep a record of when the Preventative Maintenance is performed so you can stay on schedule
Tip:
While "check sheets" are fine, they usually end up in a drawer or file cabinet somewhere and forgotten about.
We have found the best practice is to take a label (like a shipping label) and write down the date along with a list of the preventative maintenance procedures performed.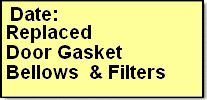 Then stick the label somewhere on the autoclave where it will be readily noticeable. This Practice will remove any guess work and will serve as a constant reminder of when the procedures need to be performed again
Here's another Tip:
To save time and avoid frustration, try not to wait until the last minute to order the maintenance items for your autoclave. The best practice is to order 2 sets, and then order again when you use the last one. This way, you will always have a spare on hand and will
never
be rushed to order.
If You Hate Paying Outrageous Overnight Charges To Get The Parts You Need
What would you pay to get your autoclave up and running immediately when it breaks down?
For parts with a predictable life span, you should have replacements on hand, ready to go. So when (not if) it happens, you will be back up and running in no time.
In addition to the normal preventative maintenance items; this would include things like
Switches
Fuses
Thermostats.
Heating Elements
It is also advisable to have spare Rebuild kits for Valves & Solenoids on hand if applicable for your autoclave.
Here's the thing. By keeping spares in your office, when you need it yesterday......you will have it yesterday!
And the overnight charges you save, will pay for most of the parts you keep as spares. Plus, with our Free Shipping Program, you save even more!
Simply replace them as you use them and, you will always be prepared.....
Make Sure Your Autoclave Is In Good Hands At All Times....Yours!

By completing the repairs yourself:
You
Won't Have To Wait For A Technician To Come And Take Your Autoclave Away!
You
Won't Have To Box It Up And Ship It, Or Pay The Freight Both Ways!
You
Won't Have To Wait For An Outrageous Turnaround Time!
You
Won't Be Out Of Business Waiting For The Repair To Be Completed!
Simply use our free guides and support to determine the parts you need and then place your order. We'll get them out to you right away. And then once you have the new parts, we'll walk you through the installation process if you need us to
We Want To Help
If you need help In locating a problem or identifying a part, simply
Contact Us !
We are here to help you
If for any reason you don't want to tackle the repair, we are more than happy to do it for you. Just box it up and ship it to us.
Click Here For A Printable Work Order
Imagine the sense of accomplishment you will feel when you are able to fix your autoclave. It really is a great feeling!