How To Repair Your Autoclave PC Control Board
Why Spend Hundreds...Even Thousands...of Dollars Replacing Your Autoclave Control Board When We Can Show You How to Repair It for Only $37?
Have you been told that your autoclave control board or power supply board can't be repaired and must be replaced? Have the high prices of getting a new autoclave control board left you in a state of disbelief? Or have you found that a replacement control board is no longer even available for your unit?
If you answered yes to any of these questions, you're in luck. We're going to show you how to repair your autoclave control board, so you don't have to spend hundreds of dollars on a replacement board or even thousands on a brand new unit.
It doesn't matter how mechanically helpless you might be, the power-packed program from electronics instructor Jestin Yong will walk you through your autoclave board repair. Following Jestin's guidance, countless people just like you have successfully repaired their control boards and saved hundreds of dollars in the process.
We're so confident that you can learn how to repair your autoclave control board, we've backed this program with a 100% money-back guarantee. If you're not fully satisfied with the results you achieve through this program, you can get your money back-no questions asked.
With this one-of-a-kind program, you'll:
Discover how to test the components on your autoclave control board
Get step-by-step guidance for repairing damaged components
Learn not just how…but why your autoclave control board isn't functional
Ready to learn how to fix your autoclave control board for just $37? Click here to place your order today!
But Wait…There's More!
This program goes far above and beyond just teaching you how to repair your control board. You'll get the information you need to troubleshoot and repair almost any piece of electronics equipment you can think of, including:
Power Supply Boards
Lab Equipment Circuitry
Dental Chair Circuitry
Computers
Monitors
LCD Monitors & Screens
Printers
Televisions
Radios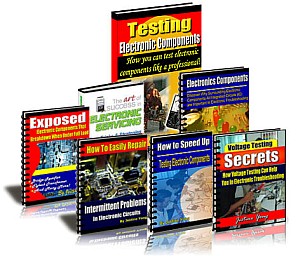 What's Included in This Program?
For just $37 (that's hundreds less than it costs to replace your control board!), you'll get:
The Electronics Testing Guide
6 Bonus Electronic Troubleshooting Guides
Free Email Questions & Answers with Jestin Yong For the next 3 Months
No Questions Asked Money-Back Guarantee
Don't spend hundreds of dollars replacing your autoclave control board. We can teach you how to fix it for just $37. Click here to place your order today!