Reviews
Understanding the sequence of events when operating the NAPCO 704-8000 will greatly assist you in troubleshooting.
Click Here
To Learn What Is Going On With Your Autoclave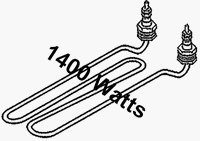 704-8000 HEATING ELEMENT (LOWER - STERILIZATION)

[NAH004-2457]
$162.94
---
Date Added: 24/11/2014 by Mike
Wally was great, very patient and helpful. Will be contacting him again when it is time to reorder!!
---
Date Added: 10/04/2015 by George
Found the part I needed, pretty easy.. Will definetly recommend to anyone looking for the autoclave.
---
Date Added: 02/03/2017 by Oscar Ramirez
Wally's very quick attention to detail helped me with my customer. Will definetly recommend to anyon
---
Date Added: 05/04/2018 by Donald McCorquodale
Wally was great. He responded to emails right away and answered all of my questions in a professiona
---